Jira Time Tracking Integration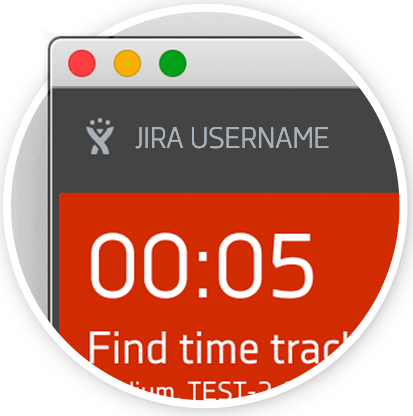 Jira time tracking software
Jira time tracking software (RMClient) is an application that allows you to track time spent on various projects with one click. The product integrates with your Jira and is displayed as an add-on in your browser window. Use it directly from your browser without opening the web version of Jira.
RMClient is suitable for developers and project managers, including freelancers and remote employees.
With an additional extension, you can quickly create tasks right in the application window. They integrate with your Jira.
Jira project time tracking integration is available for individual users as well as for large teams.
Time tracking integration with Jira step by step
Step 1
Download and install time tracker Jira by simply clicking on the Install button.
Step 2
Create a new connection or select an existing one to authorize the app. Do the following:
Select a Jira connection type in the Connections box.
Fill in the fields: Client, ServerUrl (this is the path to your Jira server), Username, Password, License Key (the key you receive after purchasing a license that allows you to use RMClient).
Press Log in.
Step 3
Log in to the application. To do this:
Select the Jira connection type in the Connections box.
Fill in fields: ServerUrl, Username, Password, License Key.
Press Log in.
Features of Using Our Product
Tracking of time spent. Know exactly how much work time it takes different employees to complete a task.
Quick Issue editing. Add new issues or edit current ones right in the app window.
Desktop notifications. Communicate with your employees. They won't miss your notification because it will appear on top of all active windows.
Simplify payments. Invoice customers with a detailed timeline received from a time log in Jira task time tracking integration.
Calculate the KPI. Enable time tracking Jira and simplify the calculation of KPIs for employees and monitor overtime.
Improved planning. Get time reports and plan projects according to the usual pace of task completion. Offer fair deadlines to clients and comfortable working conditions to your team.
Increase efficiency. The tasks of each team member are always at hand. Connect software and switch between tasks in one click.
Filter tasks. Filter (by project, tracker, status, priority, version, or assignee), sort, and search tasks without ever accessing the web version of Jira.
RMClient for Redmine, in my view, is one of the very best in the Desktop apps available for Redmine Issue management. Our team loves it, it's easy, clean and aesthetic interface and it saved us a ton of grief in achieving the same via browser based plugins. If you run any thing else, You're wasting time and money if you don't have RMClient. At such a low monthy license cost, it is simply best for the ROI it provides. RMClient team — You give the very best support of any company that I have ever dealt with. I am truly amazed at how quickly you always respond to questions that we have. You seem to be waiting there just to answer our questions. Your wonderful service is what any company should strive towards and you can quote me on that. Finally — Thanks again for helping with RMClient and other custom development needs for Redmine software.
Show more

Ramesh Nori
Sr. Project Manager - PMO
RMClient is a great tool that easily integrates with Redmine. We currently have RMClient running across the Digital Department and it has made the task of time tracking much easier and far more accurate. The best part about the plug-in is the service and support offered by ForForce. Product Managers are eager and willing to help and the roadmap is often built directly from feedback from myself and other users. Certainly happy to recommend RMClient as a product and look forward to future releases and improvements.
Show more

Clint Halket
Digital Operations Directory
GPY&R Brisbane at GPY&R
This is the best time tracker software for Redmine. Easy to use, fast, and it has great features.
Show more

Gergely Tamás
Developer
This application is a helpful utility for any Redmine users who need to know how much time they invested working on their daily tasks. The program is very simple to handle, comes with a fair price, and provides you with plenty of useful features.
Show more

Mac Informer
RMClient is a useful desktop app for tracking time in Redmine. The application offers Redmine users a simple and efficient way to control the time invested on solving issues and completing tasks in the popular project management system. RMClient comes with a couple of extra features to make time-tracking more effective.
Show more

Software Informer
A reliable, simple to use application that allows you to connect to your Redmine server and to record the work time in the project.
Show more

Softpedia
Other Integrations We Provide
RMClient integrates with Redmine and other programs of this family, such as Planio, Easy Redmine, etc.
Redmine Time Tracking
Redmine is a web application for project management and bug tracking.
Planio Time Tracking
Planio is a software for project management, team collaboration with issue tracking, version control, help desk, etc.
Easy Redmine Time Tracking
Easy Redmine is the solution that includes the most popular Redmine features, including the Gantt chart, checklists, schedules, etc.