Improve Client Billing
by tracking every spent minute
Focus on real issues
and don't be distracted by routine
Improve your team's productivity
by knowing the real workload of your employees
Plan better the cost of the project
knowing the actual spent time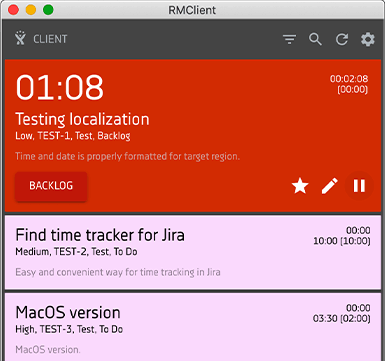 Our app was created to track time in
Jirabeta, Redmine and Easy Redmine.
RMClient is the best choice for all Jira and Redmine users.
01:00
Saves your time and increases productivity
Quick access to the tasks, status change and commenting saves time for project management and allows you to focus on real issues.
Improves project planning and evaluation
Tracking the actual time spent will help make more accurate assessments of projects and tasks.
Helps to easily navigate the stream of your tasks and be effective
With such features as Filter and Search, you can easily find the necessary task, and pop-up notifications about new tasks will help to always be in touch with the situation.
Increases projects profitability and helps to optimize expenses
Bill your clients for the actual spent time and know the real workload of your team.
RMClient for Redmine, in my view, is one of the very best in the Desktop apps available for Redmine Issue management. Our team loves it, it's easy, clean and aesthetic interface and it saved us a ton of grief in achieving the same via browser based plugins. If you run any thing else, You're wasting time and money if you don't have RMClient. At such a low monthy license cost, it is simply best for the ROI it provides. RMClient team — You give the very best support of any company that I have ever dealt with. I am truly amazed at how quickly you always respond to questions that we have. You seem to be waiting there just to answer our questions. Your wonderful service is what any company should strive towards and you can quote me on that. Finally — Thanks again for helping with RMClient and other custom development needs for Redmine software.
Show more

Ramesh Nori
Sr. Project Manager - PMO
RMClient is a great tool that easily integrates with Redmine. We currently have RMClient running across the Digital Department and it has made the task of time tracking much easier and far more accurate. The best part about the plug-in is the service and support offered by ForForce. Product Managers are eager and willing to help and the roadmap is often built directly from feedback from myself and other users. Certainly happy to recommend RMClient as a product and look forward to future releases and improvements.
Show more

Clint Halket
Digital Operations Directory
GPY&R Brisbane at GPY&R
This is the best time tracker software for Redmine. Easy to use, fast, and it has great features.
Show more

Gergely Tamás
Developer
This application is a helpful utility for any Redmine users who need to know how much time they invested working on their daily tasks. The program is very simple to handle, comes with a fair price, and provides you with plenty of useful features.
Show more

Mac Informer
RMClient is a useful desktop app for tracking time in Redmine. The application offers Redmine users a simple and efficient way to control the time invested on solving issues and completing tasks in the popular project management system. RMClient comes with a couple of extra features to make time-tracking more effective.
Show more

Software Informer
A reliable, simple to use application that allows you to connect to your Redmine server and to record the work time in the project.
Show more

Softpedia
Features
Simple settings and setup

Tracking of spent time

Quick Issue Editing

Filters by project, tracker, status, priority, etc.

Desktop notifications about new tasks

Status update within the app